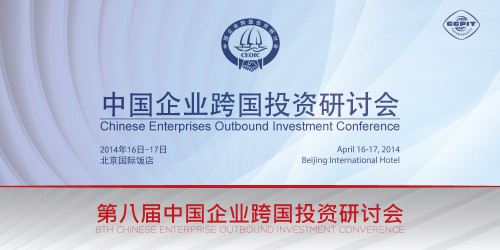 第八届中国企业跨国投资研讨会
The 8th Chinese Enterprises Outbound Investment Conference
由中国国际贸易促进委员会主办的"第八届中国企业跨国投资研讨会"将于2014年4月16日至17日在北京国际饭店举行。
Hosted by the Chinese Council for the promotion of International Trade, The 8th Chinese Enterprises Outbound Investment Conference, will be held at the Beijing International Hotel on April 16-17, 2014.
中文
近年来,中国企业"走出去"步伐不断加快。2012年,中国对外直接投资净额878亿美元,较上年增长17.6%。截止2012年底,中国1.6万境内投资者在国(境)外设立对外直接投资企业近2.2万家,分布在全球179个国家和地区,对外直接投资累计净额(简称存量)5319,4亿元。在新的经济形势下,提升中国企业"走出去"的质量,提高企业创新能力和开展全球资源整合的能力,成为政府和企业共同关心的重点。
经过七年的发展,作为中国贸促会促进企业"走出去"计划核心平台的"中国企业跨国投资研讨会",已经具有相当的影响力,在推动中国企业对外投资与合作方面起到了积极作用。七年来,中国贸促会经济信息部建立起遍布全球的"走出去"工作网络,形成在国内以各省市分支会为依托,国外以各主要国家对口机构、当地政府为合作伙伴的工作模式。尤其近几年来,国内合作省市已发展至20个;与英国商会、法国摩泽尔省、德国黑森州等地区的合作也都立足于具体项目,通过签订合作备忘录等形式建立起常态化的工作机制。同时,围绕新能源汽车、新能源、现代农业、生物医药等重点促进产业,结合地方产业发展情况,中国贸促会经济信息部在全国各地搭建起一系列有针对性的"走出去"产业促进平台,以"中英企业对接项目"为起点,实现了从平台运作向项目对接促进的跨越。
目前,"中国贸促会促进企业'走出去'计划"已经进入第二个五年规划。这五年的总体目标是推动"走出去"的多元化发展,即增加投资目的地,防范"走出去"风险,丰富对外投资形式,帮助国内产业升级。具体工作层面,一是要进一步扩大和巩固工作网络和机制,重点帮助中型城市搭建起促进中小企业"走出去"工作平台;二是要在"中英企业对接项目"基础上,与更多国家和地区建立项目对接平台(目前已和德国、法国、美国等有关机构达成了初步意向);三是要把"走出去"促进工作具体落实到产业集群上,使促进工作有基础可依(目前正在与德国黑森州洽谈在当地建立"新能源汽车电池产业园",与德中经济联合会洽谈在国内建立"电动自行车产业园"等)。
在此背景下,第八届中国企业跨国投资研讨会计划于2014年4月16-17日在北京召开,旨在针对当前经济形势,切实推动中外投资项目合作。
English
The 8th Chinese Enterprises Outbound Investment Conference
1. Time: April 16th -17th, 2014
2. Venue: Beijing International Hotel, Beijing
3. Hosts: China Council for the Promotion of International Trade (CCPIT)
Development Research Center of State Council(TBC)
4. Supported by(TBC):
Ministry of Foreign Affairs
National Development and Reform Commission
Development Research Center of the State Council etc.
5. Objective:
Enhancing Chinese enterprises' competitiveness to expand in global market in the post-crisis era, encouraging and facilitating their outbound investment in accordance with China's
Go Global Strategy.
6. Content:
a. Introduction of updated policies, laws and regulations aimed at encouraging Chinese companies'
outbound investments by senior officials from state commissions and related ministries;
b. Introduction of updated investment environments, opportunities and active projects in foreign
countries by representatives of foreign embassies and general consulates in China and other
investment promotion organizations in those countries;
c. Experience sharing of the successful Chinese investors to foreign countries;
d. Introduction of investment services and exploration of technical issues in international investment
from professional consulting service providers;
e. Projects Matchmakings between Chinese and foreign companies.
7. Events:
a. Opening ceremony, plenary session (policy release and introduction of key consulting services);
b. Parallel seminars including sector-based seminars on risk prevention,pharmaceutical, general aviation, construction etc. ; region-based seminars on Silk Road Countries, Germany, Canada, ASEAN and investment projects release and matchmaking, etc; Meanwhile,22 regional seminars outside Beijing will be hosted all over the year;
c. Exhibition stands for investment service providers and investment promotion agencies from
foreign countries;
d. Networking dinner.
8. Participants
It is expected that there will be around 1500 participants, who are from Chinese enterprises
intending to invest globally, Chinese government agencies, foreign embassies and general
consulates in China and other investment promotion organizations, consulting service providers
home and abroad including accounting firms, law firms and consulting firms, chambers of
commerce, industrial associations and trade promotion organizations.